Volverini AY Woodchippers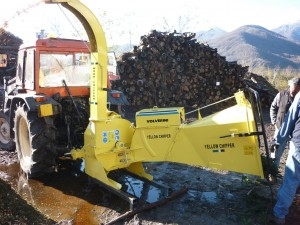 The AY series of woodchippers are tractor mounted PTO driven chippers. The AY400 can handle upto 10cm (4"), AY600 upto 15cm (6"), AY900 upto 21cm (9") and AY1000 upto 25cm (10") timber, they are ideal for use in logging, land clearance, orchards and gardens. The AY400 has a manual feed the AY600, AY900 & AY1000 have hydraulic feeds which requires no assistance from the operator. All have 360° rotating discharge chutes. They are designed to produce uniform chip size which is ideal for burning, animal bedding, landscaping and mulch, it can comfortably handle both softwood and hardwood, green or seasoned.

Options include an electric power unit for a static installation and a Bobcat style skid steer loader mount.


AY400
AY600
AY900
AY1000
Type
Disc chipper – single Disc
Single disc chipper, optional Double Disc
Disc chipper, single disc

Disc chipper Double disc

Output
3- 10 m3/h wood
5- 15 m3/h wood
10- 25 m3/h wood
10- 30 m3/h wood
Max. log diameter

100 mm

150 mm

210 mm

250 mm
Chip Length

10-12-14mm

Adjustable between 3mm- 25 mm
Tractor power

25 hp- 50 hp

30-55kW 40 hp-75 hp

45–75kW 60-100 hp

45–80kW 60-110hp

PTO speed

540 or 1000 rpm

540 rpm

540 or 1000 rpm

540 or 1000 rpm

Number of Cutting knives
2 Pcs
Opt 3pcs or 4pcs

2 pcs
Opt 3 or 4

2 Pcs as Standard
Opt 3 or 4
3 movable
5V-Belt & Pulley

Available

Available

No of hammers (Stationary knives)

2 Adjustable

2 Each can be moved
2 Each can be moved
2 Each can be movable
Power source
Tractor PTO
Tractor PTO

Tractor PTO

Tractor PTO
Mounting
3- point CAT I/II
3- point  CAT I/ II

3- point  CAT I/ II

3- point  CAT I/II
Chipper weight

280 kg

530 kg

800 kg

900 kg

Disk diameter

630 mm

660 mm

960 mm

1048 mm

Rotor weight
65 Kg (75Kg with 2 pcs blades & axle)
75 Kg (90Kg with 2 blades & axle)

160 Kg (215 Kg with 2 pcs blades and axle)

220 kg

Discharge pipe

360° turning

360° turning

360° turning

360° turning

Access to chipper housing

1 side

single

1 side

1 side

Feeder

Manual Feeding

Single roller hydraulic feed
Hydraulic Feeding 2 Pcs (Upper & Lower)

Hydraulic Feeding, 2 Pcs (Upper & Lower)

Roller speed adjustment

Not Available

Optional

Available

Available

Branch Breaker

Not Available

Optional

Not Available

Available

Side Chute

Not Available

1 Pc

1 Pc Available

2 pcs Available

Spring tensioner adjustment

1 Pc Available

Optional

1 Pc Available

Available

Reversible Feed Function

Not Available

Optional

Available

Available

Transport position for feed hopper

Not Available

Optional

Available

Available

Easy Cover Opening

Available

Optional

Available

20 Litre oil tank

Not Available

Optional

Optional

Optional